Firefox behaved crazily today.what happened was when i was browsing as usual (
where else blogger than tryin to post a coment in some ones blog
) i did some mouse gesture i dono what it meant, it opened up many tabs and another extension called 'superT' probably screwed up a bit more.see the pic to c how many tabs it opened.
Siru pulla thanama irukku
.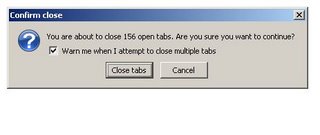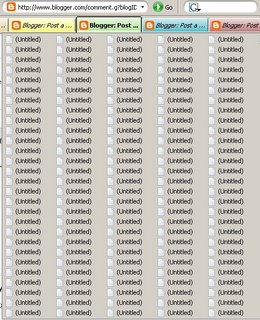 As stupid i am i was wondering what to do and closed Firefox and restarted it and thanks to the two wonderful (no sarcasm involved)extensions
crash recovery
and
sessionsaver
all the tabs opened again to my agony.Then as a next step i uninstalled firefox and reinstalled .no respite coz these extensions were just too good. I unistalled/disabled(new feature in FF 1.5) them and nothing really happened.
And finally how did resolve this ...think for simpler options And here i go right click a tab and select
close other tabs
option and the problem is solved .:).
On Any problem overa yosichu asinga padatheenga